Photos also featured in Washington Times
To view a high resolution version of the newspaper article, CLICK HERE. To read more about how the photo shoot came about, read below.
Some 29 years ago last month, Rebecca got engaged at the Jefferson Memorial at night. When discussion came up for her future son-in-law Randy to propose to her daughter, Kristin, Rebecca could think of no better setting than the Jefferson Memorial at night.
That's when I, the photographer, got involved. Rebecca emailed me and explained how she'd like me to take surprise engagement photos of Randy proposing to Kristin – capturing the moment candidly, without the bride-to-be knowing I was taking photos of her during the proposal.
A pretty good series of back stories took place in order to make this work. First off, Kristin thought that Randy would be out of town for the Easter holiday weekend since he said he 'visiting his grandparents' at that time. Then Rebecca told Kristin that she'd like to get the family together for a family portrait at the Jefferson Memorial since they'd all be in town for Easter (the family is from Arlington, VA).
Everything was set and in place. I stood near the back of the Jefferson statue, pretending to take photos of the memorial, and then I see Kristin walking towards the columns on the back side of the memorial. I then texted Randy to let him know that Kristin is seconds away from his location near the columns in the back of the memorial.
Randy pops out and Kristin is surprised to see him since she thought he'd be out of town. He goes on bended knee and proposes to Kristin.
Meanwhile, I had my lens locked on the happy couple and fired away and got some amazing candid images of Kristin saying YES to Randy's proposal! Kristin never saw me during the proposal, and she and her family are absolutely thrilled about the images.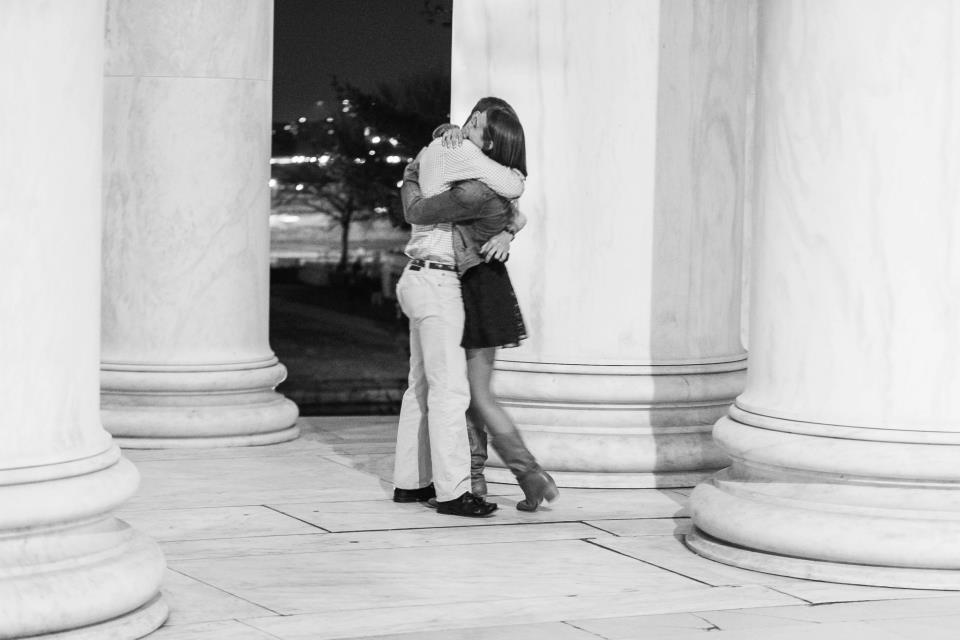 Are you a fan? Like us on www.facebook.com/AlfredoFloresPhotography