It's been another fantastic year of music in D.C. What made this year particularly special were the locations and events that brought in some top-notch musical acts. From concerts on The Mall to sold out stadiums, D.C. saw it all this year. Metromix concert photographer Alfredo Flores offers his take on 2010's ten best concerts based on visual spectacle, stage presence, rapport with audience and, of course, their music. Click through our gallery to see his concert picks!
http://dc.metromix.com/music/standard_photo_gallery/top-10-d-c/2372402/content
No. 10 Alicia Keys, March 25, 2010 at Verizon Center
You can't fault the fans at the Verizon Center for going a bit crazy minutes before Alicia Keys took center stage. The rumors that persisted pre-show came true as First Lady Michelle Obama and daughters Malia and Sasha took their seats, and the pandemonium began. The mood subdued just a bit as Keys emerged from two giant screen video boards, locked in a cage, yearning to break free. Her personal demons keepther trapped in the intro for "Love is Blind," and she broke loose from her prison with "You Don't Know My Name" to start off the D.C. leg of Key's aptly named "Freedom Tour". These powerful uplifting ballads are indicative of why Keys has become one of the top R&B artists of all-time, having sold over 30 million albums worldwide.
Click here for the full gallery!
No. 9 Taylor Swift, June 2, 2010 at Verizon Center
Not too long ago, it was Cap fans who could boast that they were the loudest at Verizon Center. That all changed once a sold-out throng of preteen girls shrieked at the sheer sight of the stage, several minutes prior to the start of Taylor Swift's two-hour set. Swift started out with her hit "You Belong With Me" in full drum majorette regalia before transforming to a sparkly silver dress, one of a half-dozen wardrobe changes of the night.
No. 8 Usher, December 17, 2010 at Verizon Center
Usher did D.C. his way on Friday, December 17, as his OMG Tour stopped by the Verizon Center for a night to remember. The pop and R&B superstar performed songs off his new album Versus, including "DJ Got Us Fallin' In Love" and "Hot Tottie," plus some of his older hits including "Burn." Rising stars Trey Songz and Miguel opened the show, but Usher brought the sold-out crowd to their feet.
Click here for the full gallery!
No. 7 Thievery Corporartion, January 22 and 24, 2010 at 9:30 Club
It all started at Dupont Circle's famed Eighteenth Street Lounge, where a young Rob Garza met with owner Eric Hilton to discuss musical influences and tastes. Hilton was a veteran DJ of the D.C. nightlife scene, and Garza was a rising star. That chance meeting led to the formation of the world-famous Thievery Corporation that set off a string of hit records, sold-out stadium tours worldwide, collaborations with the likes of rock legends Perry Farrell, David Byrne and the Flaming Lips, and recently sold-out five shows at the venerable 9:30 Club.
Hilton and Garza have always embraced the international culture and music found in D.C. and their music reflects that, with songs sung by their collaborating artists in English, Spanish, French, Persian, Portuguese, Romanian and Hindi. Their live shows also reflect on the multi-cultural nature of the band, with a diverse set of musicians rotating in-and-out of the 9:30 Club's stage to perform various musical genres. Among the local musicians on stage were Rootz and Zee from reggae band See-I, guitarist Rob Myers from Fort Knox Five, as well as local salsa performer Verny Varela.
See more images from this wonderful weekend full of great music, eclectic performances and good vibes here!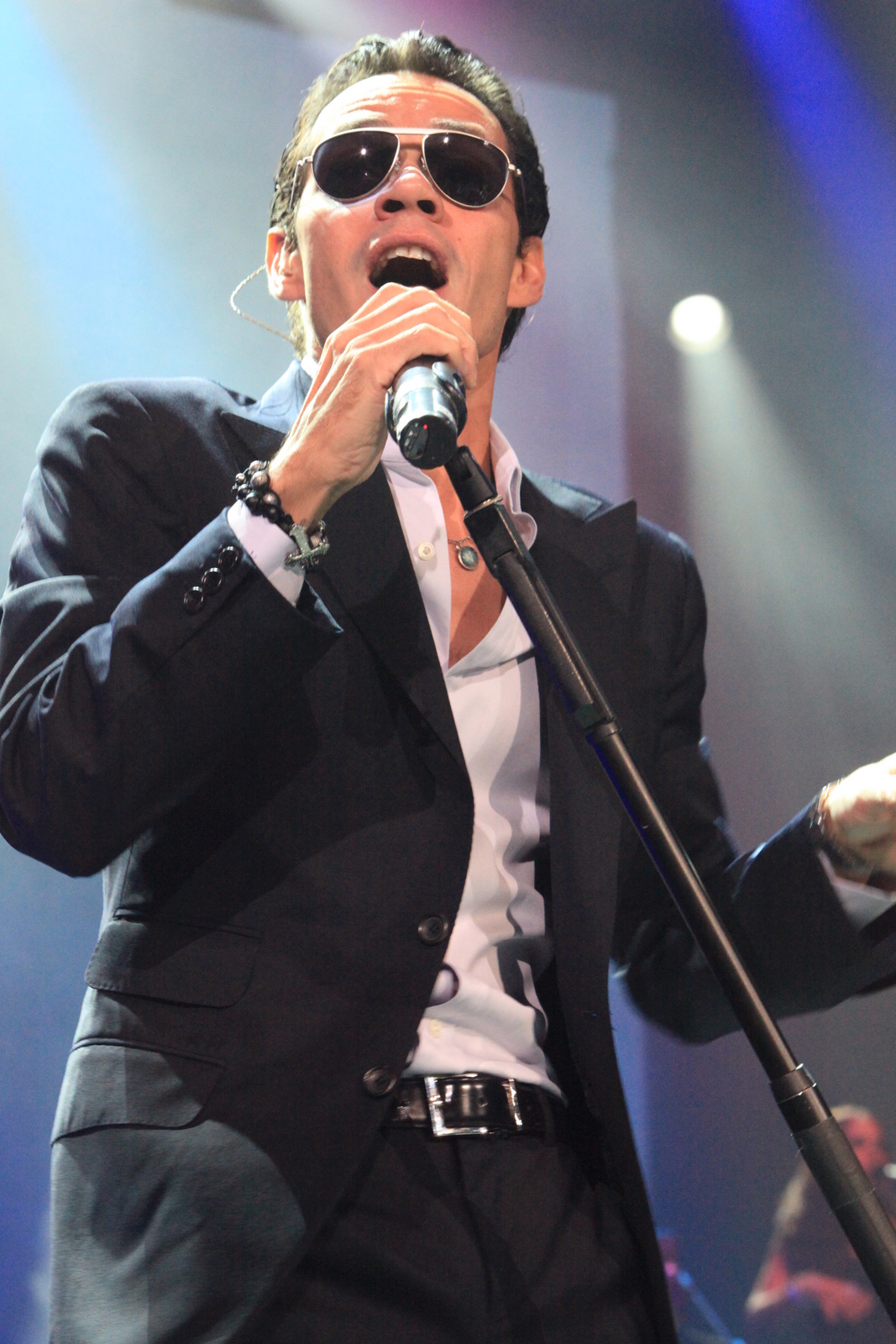 No. 6 Marc Anthony, September 11, 2010 at Patriot Center
Latin Grammy-award winning artist Marc Anthony went old school, with his tributes to the greats in the salsa genre that he's dominated in recent years. His recent release, Iconos, is an all ballad Spanish language album featuring eight cover songs of some of the most memorable performers including Juan Gabriel, Jose Luis Perales, José José, Roberto Carlos and La Mafia. That combined with Anthony's own personal hits, made for some of the best live salsa in DC this year.
No. 5 Wale, April 3, 2010 at D.C. United's home opener vs. New England Revolution at RFK Stadium
D.C. United's home opener started off with a bang as they treated their fans to a free pre-game tailgate performance for the ages—hometown hip hop hero Wale. Fans gathered hours prior to the game at the Armory Mall (just outside RFK) to grab their spot and Wale didn't disappoint, pleasing the crowd with his hits like "Pretty Girls," and "Chillin'."
No. 4 The Roots, October 30, 2010 at Rally to Restore Sanity and/or Fear at the National Mall
An estimated 215,000 people from across the country joined Jon Stewart and Stephen Colbert for their historic Rally to Restore Sanity and/or Fear on October 30, 2010. Fans of "The Daily Show" and "The Colbert Report" flocked to the National Mall, creating a sea of supporters, costumes and homemade signs that stretched from the U.S. Capitol to the Washington Monument. In addition to the two Comedy Central hosts, the event included performances by an all-star cast of musicians and actors. But stealing the show was the electrifying 40-minute performance by The Roots, who acted as the event's house band.
Click here to see more pics from the rally!
No. 3 Jay-Z, March 3, 2010 at Verizon Center
It's no secret that President Obama cites Jay-Z as one of his favorite musicians, so you can't fault HOVA for starting his set a few minutes tardy. "I just came from the White House!" he boasted towards the end of his electrifying two-hour set at a sold-out Verizon Center. And Jay-Z put on a show worthy of such swagger, continuously leaning back, holding his arm out to calm the excited crowd down, and smiling as his fans literally shouted out every lyric from the hit songs that have made him one of the most successful rap artists off all time—40 million albums sold and 10 Grammy Awards and counting. So it was apropos that Jigga started off the night with "Run This Town"—a claim he can brag about in every city he steps into.
Click here to see more photos from this show.
No. 2 Black Eyed Peas, February 23, 2010 at Verizon Center
Dancing robots, performers entering the stage on flying green glow-in-the-dark motorcycles, Fergie standing still, pouting, with wind blowing through her hair for minutes at a time, will.i.am in some bizarre metallic face mask, and tons more! Visually, by far the most spectacular show of the year.
For more pictures from this concert, click here!
No. 1 Fatback DJs, November 13, 2010 at FotoWeek DC Closing Party at House of Sweden
After taking part in the impressive opening party for FotoWeek DC, the staff at the House of Sweden knew they wanted to take it one step further, and add an even bigger musical presence in the closing party that they would host a week later. A few phone calls, and a bit of fortunate luck, and they managed to land DC's favorite DJs—Fatback. While the night started as most cocktail receptions at the embassy—lots of mingling, networking, and a look at artwork (in this case award-winning photography), that all changed when Fatback cranked up the intensity level of their music from mellow to raunchy, right around the time the open bar alcohol started to settle in for most of the crowd. It started with Bell Biv DeVoe's "Poison," and then a string of sex-laced songs from the late 80s and 90s. All of a sudden, the mild-mannered crowd let loose, the bartenders served up free champagne at a record-setting pace, DJ's took off their shirts for no reason, guys dress as if they came straight from the office, danced like they were teenagers again, and what occurred was one of the more surprising turnarounds in embassy party history—all thanks to the musical selection of Fatback.
See more pictures from this epic party here!
For more information, visit www.AlfredoFloresPhotography.com
Are you a fan? Like us on www.facebook.com/AlfredoFloresPhotography