It's been another memorable year of music in D.C., Maryland and Virginia—filled with giant stadium and arena rock shows, memorable R&B and pop performances, and some of the biggest hip-hop shows ever to take stage. Adding to the excitement for 2011 was a brand-new, state-of-the-art music venue in Silver Spring that will surely bring top-notch acts to the area for decades to come.
Metromix's intrepid concert photographer Alfredo Flores offers his take on 2011's ten best concerts based on visual spectacle, stage presence, artist rapport with audience, and, of course, the music. This year's edition of his top picks contains a couple of firsts—two acts making multiple stops in the D.C.-area in the same calendar year, as well as one music gathering so impressive that two Top 10 entries came out of that show.
http://dc.metromix.com/music/standard_photo_gallery/metromixs-top-10-d/2964821/content
No. 10: SEE-I at the Black Cat
"Homegrown, mommma, this is homegrown..."
When you think of homegrown artists flourishing, one of the local artists that come to mind is D.C.'s reggae rockers See-I. The band held their self-titled debut album release party at the Black Cat on a date that was apropos -- on the birthday of His Imperial Majesty Haile Selassie I, former Emperor of Ethiopia, whose given name of Ras Tafari is the namesake of The Rastafari movement. See-I showed why they're regarded as one of the top local acts as they blended reggae with funk, soul and rock.
Click here for the full gallery!
No. 9: Budweiser Superfest presents Jill Scott's Summer Block Party at Verizon Center
"It's like boom. I gotta do what I gotta do, son..."
Host Doug E. Fresh sure knew how to throw down an old school party with one simple phrase—"We're bringing it back to the Capital Centre!" For the current generation of Washingtonians, the only big arena concert venue in the area has been Chinatown's Verizon Center. But prior to that, it was the Capital Centre in Landover, Maryland that hosted all the great R&B acts. And with Jill Scott's Summer Block Party, which also boasted DJ Jazzy Jeff, Mint Condition and Anthony Hamilton, the Verizon Center truly felt like the old Cap Centre.
Click here for the full gallery!
No. 8: DC101's Chili Cook-Off 2011 w/ Weezer
"Woo-hoo, and that's for all of time..."
In a day filled with some of D.C's premier chili cooks, it was the music that took top billing at the annual DC101 Chili Cook-Off at RFK Stadium. Though the festival featured such varied acts as Papa Roach, Seether, Panic! At the Disco and Neon Trees, leading the way was Weezer frontman Rivers Cuomo, who got extra close and personal with a female blowup doll, started to snap away with one of the concert photographers cameras (thankfully not my camera), and had an unforgettable stage presence.
Click here for the full gallery!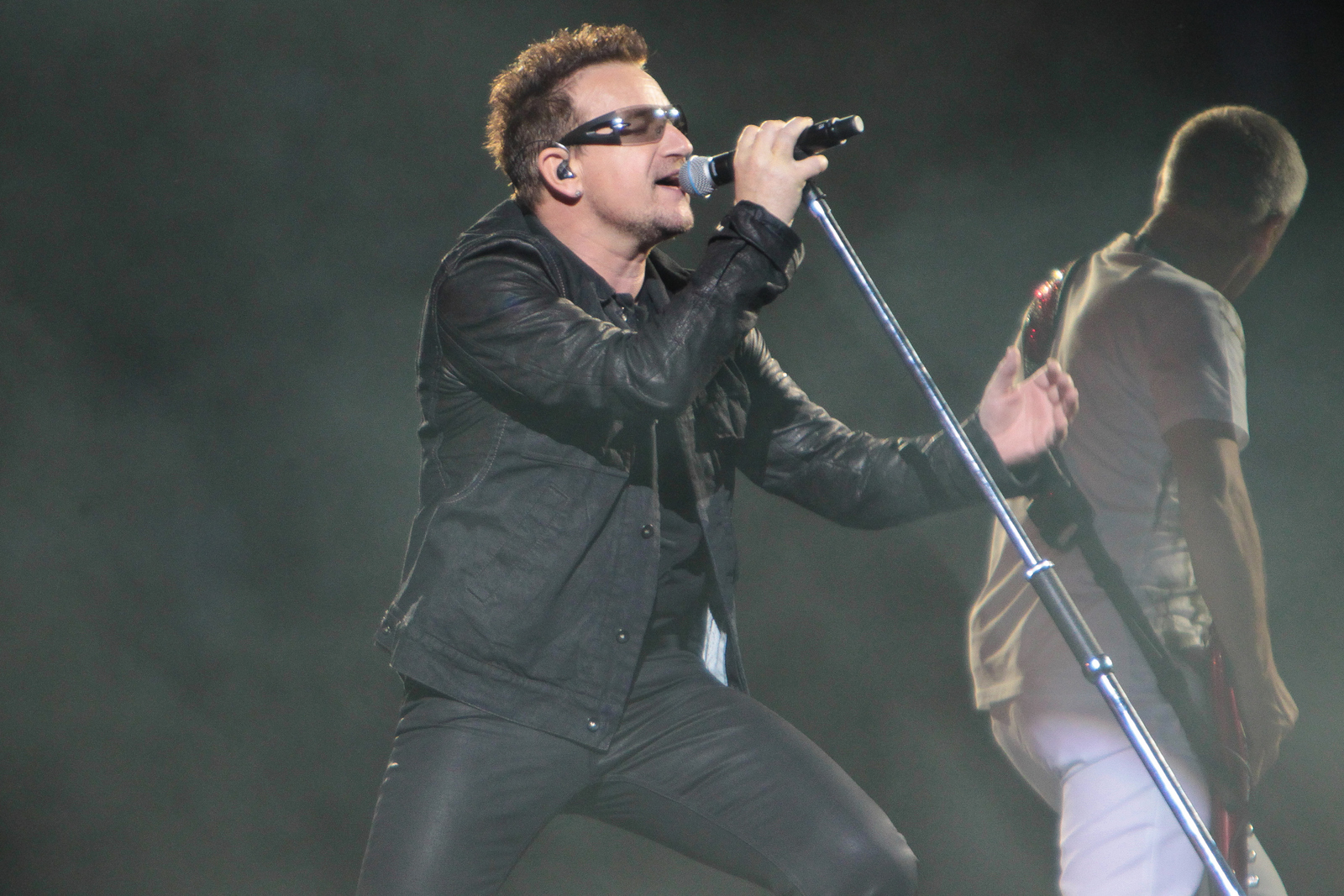 No. 7: U2 360° Tour at M&T Bank Stadium in Baltimore
"Hello, Hello (¡Hola!)"
Traffic jams from thousands of Washingtonians heading north to Baltimore gave way to an eerie calm in the minutes leading up to a typical rambunctious crowd at a U2 stadium show. But just as the seats started to fill in during U2's soothing "Even Better Than The Real Thing," the party was just getting started as the world-renowned band belted out hit after hit over the course of several hours. Over 80,000 U2 fanatics got to enjoy the band's first show in Baltimore since their 2001 stop at 1st Mariner Arena. While pyrotechnics and visuals had their limitations a decade ago, there was nothing holding U2 back from showing off their multi-million dollar stage that featured giant video panels, lighting sources form all of the ships 'tentacles' and offered the entire stadium—even people sitting in the nosebleeds—a chance to see U2, as several band members ran around the two inner circles that surround their stage.
Click here for the full gallery!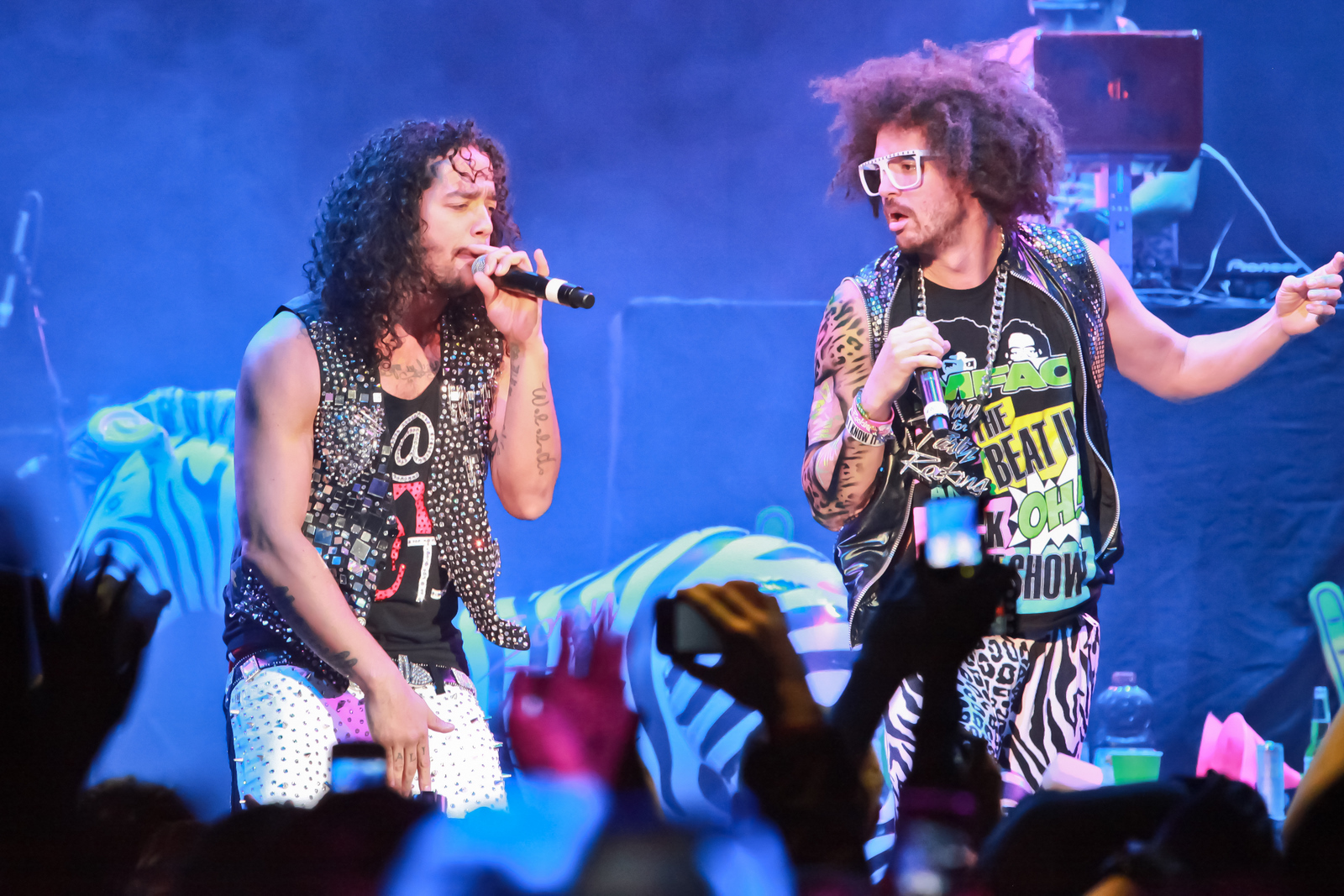 No. 6: LMFAO at KE$HA's Get $leazy Tour and Kane's ButterBall
"Party rock is in the house tonight. Everybody just have a good, good, good time."
The party rockers came out not once, but twice this year. And they came in all shapes and sizes—from the young, to the extremely young—all ready to shake that and sport their Afro wigs, zebra pants, fluffy shoes, giant sunglasses, and other wacky outfits that the party band of all party bands, LMFAO, rock. The unlikely combination of the uncle and nephew duo—DJ Redfoo and SkyBlu, both descendants from Motown Records founder Berry Gordy—brought in large crowds for both their D.C.-area shows, first opening for KE$HA's Get $leazy Tour at the Patriot Center in August and then headlining at Kane's ButterBall during Thanksgiving at the new Fillmore Silver Spring.
But it was their performance opening for Ke$ha that was truly an eye-opener. At the time "Party Rock Anthem" had just become a world-wide phenomenon, and while LMFAO had been touring clubs for a while by then, this was their first major arena stop in the D.C. area, and they didn't let that opportunity go to waste. With a gigantic neon blue backdrop, dozens of backup dancers consuming plenty of vodka on stage, it was a uniquely controlled chaos that got everybody off their seats.
Click here for the full gallery from LMFAO's appearance at KE$HA's Get $leazy Tour!
Click here for the full gallery from their headlining show at Kane's ButterBall!
No. 5: Lil Wayne's "I'm Still Music Tour" at Verizon Center
"I'm ill, not sick."
The buzz in the air at the Verizon Center was palpitating, fans waiting in anticipation for Lil Wayne's first D.C. concert performance after serving an eight-month sentence in prison, and he knew just how to make a grand entrance. Weezy's set began with a voicemail message pronouncing his prison sentence was over and that he was "free… free… free," and that's when the booming bass lit up the crowd, and got the set going. The D.C. stop on his 25-city tour featured hits from his latest release "I Am Not a Human Being."
Click here for the full gallery!
No. 4: Mary J. Blige at The Fillmore Silver Spring's Grand Opening
"You remind me of a love that I once knew."
It's not too often that the Queen of hip-hop soul gets upstaged at her own show, but it's also not every day that a sparkly new 2,000-seat ode to great concert venues of past, present and future makes its debut. This was the impression that the brand new Fillmore in downtown Silver Spring leftm as the gasping audience waited for Mary J. Blige to take the stage for the venue's first ever concert in September. Many in attendance were in sheer awe of the venue's lighting, visuals, amenities, arts on display, and state-of-the-art sound system that is among the best in the D.C. area. It was ten years in the making, and after overcoming a slew of red tape, project delays, and funding issues, the venue made a great first impression. Throughout the halls were odes to the rich history of the Fillmore's past in San Francisco, New York and other cities with concert flyers of epic performances from those legendary venues. With her stirring performance, Mary J. made a great case for herself to be inducted to the Fillmore Silver Spring's music wall of fame.
Click here for the full gallery!
No. 3: Lady Gaga's 2011 Monster Ball Tour at Verizon Center
"Ain't no other way, baby; I was born this way."
The little monsters were out in full force at the Verizon Center in February, as throngs of Lady Gaga fans filled every seat and packed every open inch of dance floor available at the completely sold out show. And with good reason: the two-hour set was spectacular, filled with all the glitter and glam one would expect from a Lady Gaga performance. The elaborate sets were impressive from the stunning subway and city backdrop to start the show with "Dance in the Dark", a flaming piano in the middle of the set while she performed "Speechless", green forest scenery ("Alejandro" and "Pokerface"), and then the giant "fame monster" beast that she slayed while singing "Paparazzi." She had the outlandish outfits to match--going through a mind-boggling number of wardrobe changes, including a giant red cape, smeared fake blood on her abs, pointy purple crown with glowing scepter, see-thru cloak with crosses as pasties, and giant spiky silver outfit. Throughout each costume change, Gaga kept singing, never taking a break from showing off her impressive vocals throughout the show.
Click here for the full gallery!
No.2: Nicki Minaj at Lil Wayne's "I'm Still Music Tour" and Britney Spears' "Femme Fatale Tour"
"All these girlies is my sons."
Nicki Minaj's debut album "Pink Friday" had been out for a few months and she just came off of a memorable appearance on Saturday Night Live, but this was still a few weeks before "Super Bass" would become one of the endearing summer jams of 2011. While Nicki has opened for major artists on arena tours in the past, she had never had such a big opportunity to make a name for herself as when she was the lead-in for Lil Wayne on his "I'm Still Music Tour" at the Verizon Center in April. Coming out with a stage full of dancers as outlandish as she was, Nicki Minaj performed a skit where she hiked a football, spun around scandalously dressed would-be tacklers, spiked the football after a pseudo-touchdown, and high-fived her hype man / referee. And then she brought out a dildo to share her very sexually explicit thoughts about what she thinks about other competing female MC's in "Did It On 'Em."
It was a jaw-dropping performance that left thousands of fans in awe, and many of them immediately searching on Google just to find out more about this superstar-in-the-making -- a sensation that would be repeated when Nicki returned in July with Britney Spears on her Femme Fatale Tour.
Click here for the full gallery of Nicki's appearance at Lil Wayne's "I'm Still Music Tour!"
Click here for the full gallery of Nicki's appearance at Britney Spears' "Femme Fatale Tour!"
No. 1: Jay-Z and Kanye West's "Watch the Throne" Tour at Verizon Center
"Ball so hard."
It was a bill that already contained two towering giants in the hip-hop game, and if that weren't enough, their swagtastic performance together at the Verizon Center proved why Jay-Z and Kanye are the hottest pair in the genre. Jay-Z entered one end of the floor in a rising tower in a black T-shirt and black pants, Kanye West in a matching shirt and a ridiculous black knee-length tunic -- as if only to draw even more attention to himself at tower No. 2. But despite their differences in appearances, style, and bravado, the mega-hit-making duo were dynamic in concert together at the sold-out show. Once joined together at center stage with a giant American flag as a backdrop, the Jay and Ye got into the set list of their first full-album together, "Watch the Throne," with a powerful rendition of "Otis." Later on in the evening, they went on to sing hit songs from each other's storied careers in an unforgettable two-hour set.
For more information, visit www.AlfredoFloresPhotography.com
Are you a fan? Like us on www.facebook.com/AlfredoFloresPhotography